Leadership and Team Building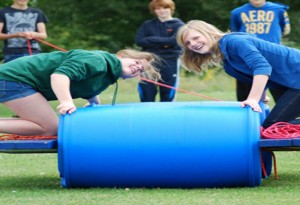 Inspiring programmes aimed at building confidence, promoting effective teamwork and developing a variety of leadership strategies through challenges and problem-solving tasks
1 Day problem solving and leadership activities on school grounds
Working as part of a team these programmes provide opportunities for students to take on different roles and responsibilities whilst completing problem solving tasks. This is a fun active day, which engages all students and has proved to be a popular programme for all year groups.
Skills include: leadership, the importance of effective communication, problem solving, time management and working as part of a team.
Students are encouraged to review their performance and evaluate results, as a peer group so that they can learn from their experiences. Previously used to great effect for activity days and year group inductions.
Age: 11 + (programmes work particularly well as Year group induction days)
Duration: 1 day
Location: On-site or other suitable location