Taking bushcraft to the next level and building on the skills learned in Explorer 1 and 2. Explorer 3 Can also be adapted as a stand-alone course.
Emphasis of the Explorer 3 programme is to build on the experiences of the previous 2 programmes in a slightly more challenging and unfamiliar environment. Thus, further developing a sense of adventure & exploration amongst pupils.
Pupils are shown how to take their bushcraft skill to the next level, by our highly experienced staff, & will have the opportunity to prepare and cook a full meal over an open fire & spend a night in their shelter built by themselves.
As with the previous programmes pupils will learn how to identify different trees and wildlife along with learning how to tie different and more difficult knots.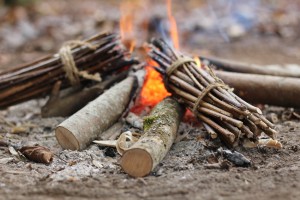 The itinerary focuses on;
• Building shelters and surviving the elements
• Using fire for cooking, warmth and to signal for help
• Camouflage, hunting and Archery
• Finding water, and making it safe to drink
In addition to practising bushcraft & survival skills it is possible to include other activities such as raft-building and climbing into the itinerary.
Please note that if students choose to spend a night in their shelter they will have a tent to retreat to should they get cold.
Duration: 3 days
Age: 8 – 12
Locations: Campsite or other suitable location within 40 – 60min drive from the school.
Accommodation: Camping